East Bridgewater MA Children Birthday Party Places
The following places in   East Bridgewater  MA specialize in children's birthday parties   updated for 2022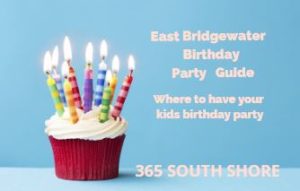 Stardust Gym will make your child's birthday one to remember!
Does your child have a birthday coming up? Looking for a creative, energetic environment at a facility with a great reputation for parties? Then check out Stardust Gym! Our goal is to endorse fitness in a fun, party atmosphere of music and colorful lights for any special occasion. Voted Best of the Best by Boston Parents Paper 2 years in a row, Offering open gym time which includes a 20′ rock wall, trapeze swing with a foam pit, blow up trampoline along with the choice of a structured activity such as gymnastics, obstacle courses, soccer or flag football and cool parachute games! You get private use of our gym and private use of our spacious party room where we set up, hostess and clean up. The birthday child even gets a free T-shirt or trophy!
BIRTHDAY PARTIES AT STARDUST GYM INCLUDE:
Private use of our gym for one hour, supervised by our high energy, professional staff. Private use of our decorated party room for half an hour for food, cake and opening presents. We do the set up and clean up. (You provide the food, beverages and paper goods.) Our party room includes two 10′ tables, a refrigerator/freezer, sink and bathroom. Invitations, award medals, and paper goods are available for purchase upon request.
Activities will include:
Rock Wall Climbing
Trapeze Swing with Foam Pit
Air Tumbletrak Trampoline
Parachute Games
And your personalized choice of:
Gymnastics
Soccer Game
Flag Football Game
Obstacle Courses
**Choice of T-shirt or Trophy for the birthday child is our FREE gift!
Host your child's birthday party at Michelle's Studio of Dance!
Our birthday parties are energetic, fun, and an unforgettable experience for the birthday child and their friends. Plus, they are completely customizable to make your child's celebration extra special! Click here to reserve your date.
Each Party Includes:
Party fun for the birthday child and 12 guests.
1 hour with our fun and energetic instructor in our state-of-the-art dance room, which includes a disco ball and flashing lights.
30 minutes in the party room for you to continue your celebration which will include tables, chairs, tablecloths and a balloon bouquet.
A special gift for the birthday guest
You Provide:
Cake, drinks, pizza
Plates, napkins, utensils
Knife for cutting cake, candles, matches or lighter for candles
For information on groups and parties at the East Bridgewater Cinema, please email info@sscinemas.com  Got a table set up for an hour before and tickets to a movie with a kids pack drink/popcorn/candy. Totally worth the $$
Each branch of the Old Colony YMCA offers unique ways to celebrate your birthday! Your child will have a party to remember and you won't have any stress! From pool parties to theme parties, our staff will make sure your celebration with us is a great one.
Contact your local branch for more information or view your branch's program brochure.
Why the Y
three people
Setup Included
Every kid needs to learn new skills and we have the perfect environment
Apple
Private Room
we handle everything from setup to decorations
tea
Party Coordinator
relax and worry about other things while our dedicated staff create an experience to remember
Gears
Clean Up Included
Core skills like thinking and learning are important
HAVE YOUR BIRTHDAY  WITH US!
We would love to celebrate with you on your special day!
Are you looking for a location other than  East Bridgewater  for a kid's birthday party check out the South Shore birthday party list