East Bridgewater MA summer camps and programs 2023
The following places in East Bridgewater MA have summer camp and programs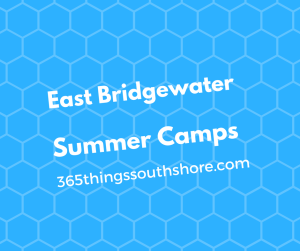 Updated for 2023
Camp Satucket creates days full of fun and adventure…with a purpose.
Camp Satucket provides quality traditional day camping experiences that aim to help children grow in spirit, mind and body. All camp activities are designed to teach the four core values of caring, honesty, respect, and responsibility.
Archery
Field Trips
Reading Nook and Storybook Trail
Ropes Course
Swimming
Theme Days
Arts and Crafts
Science
Outdoor Adventure
Sports and Games
Weekly camp options starting
Monday June 20th week thru Monday August 22nd
Summer camp dates TBD
A five-week Athletic/Enrichment program for children entering grades Pre-K through 6.
East Bridgewater Public Schools' Summer Institute is an athletic/enrichment program for children entering kindergarten through grade six. The program is held from 9:00 AM to 12:00 PM,
Monday through Thursday for five weeks
The Summer Institute has been running since 2015 for students in East Bridgewater and the surrounding communities. The catalog is sent home with the students of the East Bridgewater school district and can also be found at our town library as well as here on our website.
Courses are offered in the following categories:
Arts & Crafts Drama & Dance/Music Games & Sports
Kitchen Adventure Outdoor Adventures Math Fun
Computer Science Super Science
Space is limited! To secure your spot, fill out the summer registration form and mail it or drop it by the studio. All summer classes require a $25 deposit which can be paid by cash or check.
Click here to download and print a summer registration form
Summer Dance Camp
Ages 3-9
Dancers will enjoy dancing, games, arts & crafts, a final performance and most importantly, memories and friendships to last a lifetime!
Date: Monday-Thursday, July 17th-20th.
Half Day: 10:00 am – 12:00 pm – $180
Full Day: 10:00 am – 2:00 pm – $275
ballet and tap dance lessons in MA
Tutus & Tumbling
Ages 3-5
Dancers will enjoy dancing, tumbling, & fun!
Date: Tuesdays July 11th-August 15th or Thursdays July 13th-August 17th
4:15-5:00 pm – $95
Summer Technique Class
RISING 2nd GRADERS and UP
MSOD is offfering 8 weeks of technique classes for those dancers looking to stay dancing during the summer months. These classes will be open to all students entering 2nd grade in the fall and up. These classes will focus on choreography/showmanship, technique/execution, and strength & endurance.
Date: Tuesdays, June 20th – August 15th (No classes July 4th)
Pre-Pointe: 4:00-4:30 pm – $80
Classical Barre Intensive: 4:30-5:30 pm or 7:30-8:30 pm – $160
Choreography/Technique: 5:30-7:30 pm – $320
Pointe: 8:30-9:00 pm – $80
Contemporary: 5:00-5:30 or 7:30-8:00 pm – $80
*Students will be placed into class times for the Classical Barre Intensive and Contemporary by the teacher at their own discretion
*All current Pointe students must be enrolled in Pointe, along with the Classical Barre Intensive over the summer to continue with Pointe come fall. Students going on Pointe this fall must be enrolled in Pre-Pointe, along with the Classical Barre Intensive over the summer to start Pointe come the fall.
*Contemporary will have a requirement of being enrolled in ballet to continue the class in the fall.
*All dancers planning on being a part of our 2023-2024 Dance Company must be enrolled in the Choreography/Technique summer classes.
Ballet Comprehensive Program
RISING 2nd GRADERS and UP
This class is geared towards dancers who would like to further their ballet technique during the summer months. This class is taken in addition to the Classical Barre Intensive and Pointe classes (if applicable) on Tuesday's during the summer.
Date: Thursdays, July 13th – August 17th
Ballet Comprehensive: 5:00-6:15 pm – $150
Pointe Comprehensive: 6:15-7:00 pm – $100
Acro
Date: Thursday's, July 13th – August 17th
Acro 1: 5:45-6:30 pm – $95 (Students must have basic acro skills)
Acro 2: 6:30-7:15 pm – $95 (Students must have basic acro skills along with a front or back walkover)
Acro 3: 7:15-8:00 pm – $95 (Students must be evaluated by the teacher)
SING…ACT…DANCE…your way through the summer!
Join New England's most acclaimed theatre program
(Voted #1 Boston Parent's Magazine, Reader's Choice & Access Broadway)
Character Development, Scene Study, Improvisation, Music, Dance, Crafts, Games & Costumes…It's all here!
Children's Summer Camp
July 31st -August 4th  or August 7th thru 11th
Exciting theatrical events to keep your child moving and creating this summer!
Singing, Acting, Dancing, Arts & Crafts are all part of this artistic experience.
Students will participate in a showcase for friends and family
on the Friday of camp.
Tuition $195 per session OR $350 for both sessions
Pre-Teen Summer Camp
July 10-27
Performances July 28 & 29
The "not so mini-version" of our Teen program.
A three week program with students meeting Mon.-Thur. from 9:30-3:30
The three disciplines of musical theatre; singing, acting, dancing, are integrated through fun and creative activity.
A production of Disney's Descendants will round off the camp experience.
A pre-camp meet and greet & placement audition will be scheduled prior to the beginning of camp.
Tuition $675  $50 Non-refundable deposit required upon registration
Teen Summer Camp
July 11- August 19
Performances August 18 & 19
Teen Summer Program is a six week intensive.
Students meet Tuesdays thru Thursdays from 9-4.
Focus is placed on vocal production, acting and dance.
The three disciplines of musical theatre integrate in the Musical,
LEGALLY BLONDE.
Additional dates and details for auditions and tech week rehearsals will be provided upon registration.
Tuition $1299
$200 Non-refundable deposit required upon registration
Preschoolers, grade school or freshman in high school — we always have SO MUCH FUN! Spread the word because the dance center will be the place to be next summer!
Water Games, photo shoots, crafts, dance, dance, dance, mani/pedi's, karaoke, costuming, modeling, public speaking, acting, daily visits from the "Snowie Bus, pizza Wednesday, jumpies, water slide & more….
*does not need to be a dancer or a current student – open to all!
Bring a friend!
(contact the studio for more information)
Boys Entering Grades 3-9
Viking Basketball Clinics are designed to provide participants with the opportunity to improve their skills, techniques and to really appreciate the game of basketball and get them ready to start their upcoming season. Under the guidance of Coach Andrew MacDonald along with his current and former players each camper will leave with a greater understanding and love for the game of basketball. Each day will include individual/team instruction, skill development, daily contests, and more!
Equipment Needed:
T-shirt, Shorts, Socks
Sneakers with good traction
You can bring your own basketball, but one will be available to all players
Water
Bagged lunch
All aboard!!! Come join the fun, and bring some friends along!
Crafts, Music, Bible Lessons, Games and Snacks.
July 10-14, 9-11:30am. PreK (potty-trained)-Entering Gr. 5
Register for this free program at
www.communitycovenant.com
under "Events". All children are welcome and may attend any number of days. We make every effort to meet the needs of every child who attends. For the safety of your children, all adult volunteers are both CORI and 50-state background checked.
If you are looking for summer camp in other towns besides  East Bridgewater  Massachusetts , check out the South Shore Boston Summer Camp guide.