Sharon MA summer camps and programs 2023
The following places in Sharon  MA have summer camp and programs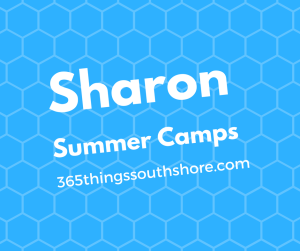 Our incredible 70-acre site, on a stunning 350-acre lake, facilitates our dynamic program like no other day camp. It allows for a range of activities that ensure our 4-year-olds are just as engaged, stimulated and challenged as our 15-year-olds (and everyone in between)!
All program offerings are adapted for each age group to ensure full and enthusiastic participation. As campers grow, the program grows with them- with more choices (electives) as they return year after year. Teenagers at Everwood are offered continued development in their programming, including leadership opportunities with our L.E.A.D (Leadership, Exploration, And Development) and C.I.T. (Counselor In Training) programs for campers entering a 9th and 10th grade. With over 60 different activities in categories such as Adventure, Nature, and Science, Creative and Performing Arts, Sports, and Aquatics, every day at Everwood are different and sure to keep your child engaged and growing
Opening Day: June 26, 2023
Closing Day: August 25, 2023 (9 weeks)
2 Week Sessions
Everwood Day Camp will be offers 2 week sessions that can be combined to create a longer summer of 4, 6 or 8 weeks.
Post Week
Our final week of the summer is our "Post Week". This stand alone single week is a great addition to your child's summer. Campers will have the opportunity to engage in a wide variety of Camp activities including arts, sports, adventure, waterfront and more. Expect to see changes in program and staffing this week. Swim instruction is NOT offered during Post Week.
Hours
Regular Camp hours are 9:00am- 4:00pm, with extended care available (for an additional cost) beginning at 7:15am and ending at 6:00pm.
Let Moose Hill Camp become your child's neighborhood play space. Every day is an adventure where kids can dabble in our shallow ponds, chase dragonflies, scramble over rocks, catch frogs, climb a hill, look out upon a vista, or watch the clouds floating by. The magic of Moose Hill Camp will reach out to your child through his or her senses-the scent of pine needles on a warm sunny day; the coolness of a salamander held in a palm, the excitement of capturing a cricket and the sounds of birds calling, kids laughing and songs being sung.
Our goal is to connect children to nature and let them have fun through a blend of outdoor explorations, non-competitive games, focused activities, hikes, and crafts. Campers learn to explore nature through themed weekly sessions with age appropriate instruction. Small group sizes ensure that our instructor-counselors can develop relationships with every child.
Moose Hill Camp offers progressive levels of curricula that increase in complexity as your child ages. Our Peepers Camp (ages 3 – 4) has both half or full day program options for children just beginning their explorations of the natural world. Each age group of our full day Nature Camp (ages 4.5 – 6, 7 – 8, 9 – 11) enjoys different focal topics of the day that are integrated into the various games, hikes, focused activities and explorations.
Older campers (ages 9 – 14) may choose from a variety of camp programs including Nature Camp, Creative Arts Camp, Science Camp and/or the Adventure Day Trip Camp which may include select overnight adventures. Teens (ages 14 – 16) may attend a Leadership Camp session and/or become Leaders-in-Training where teens are taught leadership skills that will be assets to them in all avenues of life, not just their time spent at Moose Hill Camp.
A DAY AT CAMP
8:45–9:20 am Camper check-in &
free choice time
9:20–9:35 am Opening Circle & songs
9:35 am–12:00 pm Theme introduction, snack,
activities, explorations, & hikes
12:00–1:15 pm Lunch & free choice time
1:15–3:40 pm Activities, explorations, crafts,
snack, & reflection
3:40–3:55 pm Closing Circle & songs
3:55–4:15 pm Camper pick-up
CREATE Camp
CREATE is a comprehensive program of drama, music, dance and scenic design. CREATE, which stands for Creative Recreational Education for Arts, Theatre, and Expression, was created for students currently in 3rd grade through current 9th grade. CREATE operates in 2, two-week sessions at the state of the art Sharon Middle School.
Students may register for one-two week segment or both for a total of four weeks. This format will give parents/guardians the maximum flexibility to arrange for their busy summer activities without having to commit to a program for an extended period of time.
This program will consist of a variety of concentrations that will be offered daily. For those interested in performance, we offer classes in acting, singing, and dance. For campers who are interested in music we offer classes in rock band/ garage band and singing. For campers interested in design and technical elements we offer classes in set design/painting, stage tech, mask making, and lighting and sound design.
The past CREATE programs have been a wonderful learning experience and thoroughly enjoyed by all participants. Last years' staff are returning and are excited about working on all new productions. We know there are many choices available for summer arts offerings but we hope that you will choose the CREATE Program!
STAR Camp Calendar
Monday, June 26- STAR Camp begins (dependent upon last day
of school)
Tuesday, July 4 – No camp in honor of Independence Day
Friday, August 4 – Last day of STAR Camp.
Don't Stop the Music!
Yes, it is a common sense. Any skill requires a constant exercise to maintain. Music is no different. Again, we remind you of a saying attributed to the famous pianist and Polish Prime Minister I. Paderewsky : "If I miss one day of practice, I notice it. If I miss two days, the critics notice it. If I miss three days, the audience notices it. Long breaks in learning process always negatively affect the learning progress. If you are not convinced, here is another quote by Nobel Laureate, a psychologist D. Kahneman: "The acquisition of skills requires a regular environment, an adequate opportunity to practice, and rapid and unequivocal feedback about the correctness of thoughts and actions". To help our students maintain and improve their skills we stay open during the summer for private lessons. Summer scheduling provides a lot of flexibility – just let us know what weeks you are around to take lessons. To do so, please fill out our Online Summer Registration form . Summer semester offers another great experience – students have an opportunity to work with different instructors. After every summer many of the students who attended the summer programs, tell us what a wonderful experience it has been. Summer is also a great time to expand one's music experience – try a new instrument, learn how to compose and improvise or how to sing.
08/07/2023 – 08/11/2023
08/14/2023 – 08/18/2023
Motorized LEGO Brick Creations (Half Day Program 9am-12pm, ages 4-5)
Our 4 to 5 half day programs are a perfect way to introduce your child to STEM based principles while having fun and building with LEGO bricks! Each day students will learn STEM based concepts that correlate with the build they are creating using axles, gears, motors and battery packs. Working in pairs, students will follow the teacher's instructions, step by step, to assemble their build. Once their build is complete students will have time to modify and experiment with their LEGO brick creation any way they would like! Please bring a water bottle and snack.
Master Builders & Coders with Stop Motion Animation
(Full day program 9am-3pm, ages 6-8.5)
Join us and become a Master Builder! Before each LEGO brick creation, staff will discuss key engineering and physics concepts with the children and how they relate to our builds. Students will then build their LEGO brick creations using axles, gears, battery packs and motors following PowerPoint presentations. In addition children will code their LEGO builds using a drag-and-drop based interface using Bluetooth technology. In the afternoon, children will have the opportunity to produce their own LEGO stop motion animation. Students will be able to build their own movie sets and devise their own plot, with LEGO mini figures and other LEGO bricks, using professional stop-motion animation software. Please bring a water bottle, snack and lunch.
EV3 LEGO Robotics & Minecraft with Stop Motion Animation
(Full Day program 9am-3pm, ages 9-13)
Come join us as students build multiple robots that can swing, smash, tilt, spin and launch LEGO and mini figs across the room! Each day children will use LEGO, motors, gears and sensors to code their robots. After each build students will have the opportunity to apply what they learned using STEM-based principles to experiment with the coding and modifying their LEGO creation. During the Minecraft portion of the day, students will be tasked with building a maze. A maze is filled with traps, tricks, and tactics to protect them from archenemies. Instructors will use Command Blocks and Redstone to teach students how to create cool defenses to use throughout their maze. At the end of the week students will try to solve each other's mazes. In addition, children will have the opportunity to produce their own LEGO stop motion animation. Students will build movie sets and devise their own plot with LEGO mini figures and other LEGO bricks, using professional stop motion animation software. Please bring a water bottle, snack and lunch.
LetGoYourMind After Care: Additional care is available for families who may need it after the program Monday through Thursday 3:00pm-4:30pm (no after-care offered on Fridays). After Care is only available to participants in LetGo Your Mind Programs.
If you are looking for summer camp in other towns besides  Sharon  Massachusetts , check out the South Shore  Boston Summer Camp guide.