Foxboro MA Children Birthday Party Places
The following places in  Foxboro  MA specialize in  kids  birthday parties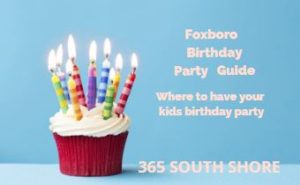 BIRTHDAY PARTIES & RENTALS
Friends and Family time at the Y is about giving families as a unit, and as individuals, the opportunities to deepen relationships, develop new skills and interests, improve their health and well-being, and connect to the community
Helpful Details
Our staff is here to facilitate the party for parents for a stress free, relaxing experience.
Please book parties 2 weeks prior to intended date. Payment due upon reservation. A final head count is due to the YMCA 1 week prior to the party.
What to Expect
You child will have a get together to look forward to with friends in honor of their special day. We'll have fun, be active and enjoy free swim, water games and socialization. We are operating with enhanced cleaning & safety protocols for the enjoyment of all. Only one birthday party parent will oversee the group with our Y party host to maintain our safety guidelines.
POOL PARTIES
Indoor Pool Parties
Enjoy 60 minutes of free swim in our YMCA indoor pool celebrating your child's birthday with up to 8 of their closest friends. Our friendly, trained aquatics staff will ensure your group will have a safe, fun experience in your own section of the pool. Free swim will also include some structure with water games and relay races. Parties concludes with 25 minutes in a dedicated room for the birthday child to enjoy social time with their friends and open presents.
Ensure a smooth & stress free party with our Y certified lifeguard & 1 hour of free swim in our Spier Family Indoor Aquatics Center pool (ages 4-15). The pool party will begin with all kids taking a swim test for safety purposes * (treading water for 1 minute unassisted).
After swim tests, kids will have a blast swimming & playing in our family pool for the remainder of the hour. For the last 30 min. of the party, kids & guests will transition to our party room to enjoy cake & friendship. * For every 3 non-swimmers (children who did not pass the swim test), 1 adult must be in the water with those children.
The Party will be held in our family pool which may have family swim going on at the same time depending on the time of the party.
GYMNASTICS PARTY
Enjoy 60 minutes of supervised gymnastics fun! The birthday child and 8 of their closest friends will flip, hang and balance on all of our gymnastics apparatus! Friendly, highly-trained staff will ensure all guests have an amazing day filled with laughter and smiles. All party goers will participate in a mini obstacle course and receive a water bottle as a favor. Parties conclude with 25 minutes in a dedicated party room where the birthday child will have the chance to enjoy social time with their guests and open gifts.
ROPES COURSE ADVENTURE PARTY
The birthday child and family/friends will enjoy 1 and a half hours of climbing and swinging up and across our ropes course* and touching the tops of trees**. Our highly trained and friendly staff ensure that all climbers have an amazing day while sharing laughs with their friends and family. For the last 30-minutes of the party, kids & guests will transition to our outdoor party tent to enjoy cake & refreshments.
XtremeCraze – Foxboro
A XtremeCraze birthday party is unforgettable fun. Whether it's an XtremeCraze laser tag party for the slightly older kids through adults, an Inflatable Airpark party, or an Xtreme Combo Party, everyone will have an unbeatable blast of a time.
Let XtremeCraze's dedicated staff handle all the details and cleanup while the birthday boy or girl and their party guests focus on having fun.
Parents will appreciate and enjoy the first-class exceptional customer service in our exquisitely clean facility and, best of all, you don't have to clean up the aftermath.
"We took full advantage of this wonderfully crisp, new facility with all of its fully functional games, air park, laser tag, etc. for my son's 12th birthday. The code names, pics and emailed scorecard were icing on the cake! Great for both the boys and girls in our party. We loved it. Highly recommended."
BIRTHDAY PARTY PACKAGES
Each party package is designed for 8 guests, including the birthday child. Plus, each party has a dedicated party host to coordinate and server your party.
Your Party Includes:
+ A reserved table.
+ All of the paper products (including plates, forks, knives and candles.)
+ Unlimited fountain drinks.
+ Detailed scorecards and membership cards for each laser tag player.
+ Two large 16″ pizzas.
Maximum Inflatable Airpark Party
+ This party is designed for ALL AGES.
+ Includes a reserved table for 1 hour 45 minutes.
+ 1 hours session in the Inflatable Airpark.
+ One adult plays free.
+ Game Cards.
Laser Tag Party
+ This party is designed for kids 7 years old through adults.
+ Includes a reserved table for 1 hour 45 minutes.
+ Includes one 4-game session of laser tag.
+ One adult plays laser tag free.
+ Game Cards.
Xtreme Combo Party
+ This party is designed for kids 7 years to adult.
+ Includes a reserved table for 2 hours 15 minutes.
+ Includes one 45 minute session of laser tag. One adult plays laser tag free.
+ Includes one hour airpark session. One adult free.
+ Game Cards.
Birthday Parties for Kids
Host your child's birthday party only at Howl Splitsville Topgolf. Book your party today!
Children's parties are held Monday-Friday from 4PM-6PM and Saturday and Sunday from 11AM-6PM.
We do not take reservations for less than 8 bowlers. All you have to do is walk-in!
All birthday parties include 2 hours with a Party Host; planned, theme party with a 45 minute activity; customized invitations; and cleanup.
Our birthday parties are designed for children ages 4-12 years old.
Parties are scheduled April 1 through mid-June and after Labor Day through November for Sunday afternoons from 3-5pm or Monday-Thursday with flexible times for any 1+ hour period. Due to the busy camping season, parties are not scheduled during the summer and while we are closed Dec thru March.
Each party is for 12 children, including the birthday child.
Ala Carte items available:
Cake and ice cream
Helium balloons
Pizza
Boot Camp (ages 6-12)  This exciting military theme party can include a scavenger hunt, obstacle course, & tug of war among other games. The objective is to work together as a team!
Survivor (ages 6-12) Fee:  Join the "Siku" and "Kipaji" tribes of Normandy Farms and get set to face a series of immunity challenges that will keep you running!
Pool Party (ages 6 to 12) Fee:  Splish-Splash! Guests will have the option to play age appropriate group games or simply enjoy free play. Pool toys will be provided for added fun! Guests under 6 years old must be accompanied by an adult in the pool. Available Sunday – Thursday from April 1st – Mother's Day; Labor Day – Columbus Day.
Game Mania (ages 4-12) We have compiled a collection of our best games to be played inside or out. Musical chairs to dodge ball, parachute play to relays! Choose from our extensive list of games for a fun-filled day!
S'more Fun! (ages 4-12)  First, explore the nature trail complete with educational signs about the native plants and animals in the area, then roast marshmallows for delicious s'mores in a roaring fire while you sing along to your favorite camp songs!
Disc Golf (ages 6-12)  Party on with 18 holes of disc golf! Our course meanders through natural wonders where all the kids will marvel at nature while testing their accuracy throwing frisbees into cages.
Ride On! This thrilling bike themed party takes place in our 20,000 square foot bike park complete with jumps and a skills course. Perfect for the biking enthusiast! (ages 6-12)
Customize Your Own! We will customize your child's party for whatever they are interested in. Some ideas include: Princess Party, Firemen Party, Pirate Party and Holiday Theme Parties.
*Prices are subject to change without notice.
Are you looking for a location other than  Foxboro   for a kid's birthday party check out the South Shore birthday party list