Playgrounds South of Boston 2023
I know alot of parent  and kids love going to the playground! Here is a listing of public playgrounds on the South Shore if you know of any that need to be added  (or deleted ) to the list please  go to Facebook  or Instagram and update us .  In addition, most public elementary schools have playgrounds however they are not usually available during school hours.  We   do   our   best  to   keep   this   page updated!  Tag us in any playground pictures @365southshore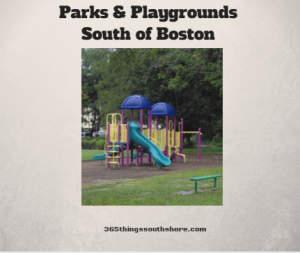 Abington MA playgrounds
Center School/Murphy Club Field located on Walnut street in Abington. The Murphy Field facilities include basketball hoops, a small playground and tot-lot, and two Youth League baseball fields.
Harrison Avenue Playground single climbing structure and swings next to a baseball field. A small parking lot and no bathrooms.  Perfect for toddlers and preschoolers!
Beaver Brook  Playground   Large, recently-renovated (2022) playground adjacent to school properties head to the old  Frolio school  with swings, slides, climbing structures, and sections for younger and older children. Rubber and wood chips underfoot.    There is a good amount  shade  compared to a lot of other playgrounds.  Go here to see our video 
Attleboro MA Playgrounds
Conley located on Newport Ave & Cumberland Ave  is a small playground, situated on less than an acre, with a lot for small children to do. It features a climb-aboard choo-choo train, an automobile and a jungle gym. . The park also features swings, a sandbox and a basketball court.
Nickerson Playground on Snell Street in Attleboro has a climbing jungle gym as well as swings It also features a basketball court, walking paths and a skateboard park.
Braintree MA  Playgrounds
Erwin Davis Memorial Park and playground in Braintree MA , on Faxon Street contains a basketball court, a playground and a large open field. Located off of Commerical street.
Robert S. Mattulina Playground in Braintree on Kendall Ave has a baseball field, jungle gyms, swings, a slide and picnic table for parents.
French's Common Park across the street from Thayer Public Library has tennis and basketballs courts and a baseball field. They have swings and a jungle gym.
Hollis Playground located at the Hollis School on Washington Street in Braintree. Large plastic  climbing  structures for the kids as well as swings and seasaws.
Winfield Adams Playground at the corner of Commerical St and Adams Street.  It has a jungle gym, slides and swings.
Highland Community Playground  located on South Street and Route 37 in Braintree Highlands at the location of the former Norfolk Community hospital.
Sunset Lake Playground The playground features swings and a slide, as well as climbing and play structures, with wood chips as a surface.
This small grassy park overlooking the Monatiquot River features a playground, a basketball court, and a   walking path. Located next to the Braintree Council on Aging Center.
 Bridgewater MA Playgrounds
Marathon Park on Crescent Street in Bridgewater. off Route 18. Located adjacent to the softball fields and the Police Station, this beautiful recreational facility was created for the enjoyment of children age 1-12 and their families. The state of the art playground includes multiple play configurations geared toward specific age groups, activities and climbing structures, a large pavilion/shelter and picnic area. The ¾ acre facility is surrounded by a fence and includes a 6'wide perimeter "walk with me" path. 
Carver MA Playgrounds
This sprawling, contemporary playground is located behind the Carver Town Hall, adjacent to the King Property Recreation Complex.  This large playground features play areas for older and younger children, both with rubber surfaces. Highlights include swings, slides, climbing structures, and a sandbox. They are mostly fenced in, and surrounded by athletic fields.
Cohasset MA Playgrounds
Beechwood Field Playground  A small, wood chip surface, fenced-in playground next to a ball field. No bathrooms.
Cohasset Library Playground A large, fenced-in, wood chip surface playground with multiple kids climbing  structures, swings, and picnic tables behind the town library,  There is large parking lot and bathrooms available in the library when open.
Duxbury MA playgrounds
Birch Street Park Playground  in Duxbury . There are 3 different and new PVC type play structures. One is geared to kids 2-5, the other for kids 5-12, and the third is a huge climbing rope structure for the older kids also. In addition, there is a very safe and modern see saw and swings for all ages.
Easton MA Playgrounds
Frothingham Park  on Park  ST and Center in North Easton  includes a baseball field,basketball court, playground and tennis courts
Edwin A. Keach MemorialPark on Chestnut Street in Easton    This 16   acre property includes three multi-use recreational fields, two baseball/softball diamonds and a playground for children
Hanover MA Playgrounds
The fenced-in playground features areas for younger   (toddlers/preschoolers)  and older (ages 5-12) children, with swings, slides, climbing structures, There are woodchips  to cover the ground.   Lots of shade  and picnic tables.
Halifax MA playgrounds
HOPS Playground is one of the most newer  playgrounds on the south shore and   e It is located on Plymouth Street (Route 106) directly across from Halifax Town Hall and adjacent to Holmes Public Library.  Downside no shade in the park. They do have picnic tables with shade
Hingham MA Playgrounds
Hershy field park This small park on Thaxter Street includes 2 Little League baseball fields, an open grassy area, picnic tables, and a small fenced-in playground designed for children ages 5-12.
Hingham Fire station playground  has multiple playground sets for all ages, swings for all ages, a climbing wall for little ones, a little house to go in, a 'ship' to sail, and a sand box.   left (south) of Hingham's main fire station at on Route . 228
Hull MA playgrounds
Nantasket beach DCR playground Located outside the Mary Jeanette Murray Bath House features a great jungle gym and swing set with sea animals and a soft padded ground area. Great during high tide with a picnic area and bathrooms
Kenberma Playground . Big swing set area with slides and climbing areas  Large fenced-in playground with swings and play structures for toddlers and elementary-age children. Wood chips underfoot. Pickle ball and basketball courts, a baseball field, and picnic tables.
Hull Village Playground Small playground near Fort Revere Park on Main st  with play structures and an open field. The play area is mostly fenced in, but there is no gate.  also known as Robert b neal playground
Kingston MA playground
Gray's Beach Park Playground
Marshfield MA Playground
Marshfield New Playground next to the Library at Library Plaza, located off Snow Road in Marshfield Center.  Large new playground that is handicap accessible.
Rexhame Beach, Playground   New in spring 2018! Fenced-in, sand surface, pirate-themed playground with a single climbing structure and sand toys. Large parking lot (beach sticker required) and bathrooms when the beach is open.
Middleboro MA Playground
Reed Playground Lincoln St Middleobro
Norwell MA Playground
Gaffield Park is a modern playground set in the woods of Norwell, Massachusetts. Its easy to find by taking Route 3 south to the Hanover Mall exit. Follow 123 to the Norwell Police Station and take a right. The park will be on the right side of River St. just a short way down. There are plenty of slides, climbing structures and swings for all ages, including a tire swing. There is even a zip line and teepee. One of the best features of this park is that it is across the road from Norris Reservation, where families can take a nice hike after playing at Gaffield Park.
Quincy MA playground
Allerton Street Playground located on Allerton Street in Houghs Neck.
Arthur Boysons  Park located on Heron Road in  Adams Shore. It has children's playground equipment as well as a basketball court.
McKinnon's Playground is children's playground located on Chapel Street on Houghs Neck.
Grenham Street Playground on Macy Street in Houghs Neck.
Forbes Hill Playground on Forbes Hill Road in Wollaston.
Flaherty Park located on Quarry Street in West Quincy. It has a playground, basketball court and street hockey court.
Grasso Playground on Columbia street in South Quincy. It has a basketball court and a kids playground.
Kincaide Park on Water Street in South Quincy. It has a Softball field and baseball field with lights, tennis court, street hockey court and a children's playground.
Beechwood Knoll Playground  on Fenno Street in Wollaston. It has basketball court and a playground.
Pembroke MA Playground
Community Center Playground  with a climbing structure, steep slide, infant swings, ride-ons, picnic table, and tractor digger. Next to the Pembroke Public Library  which has bathrooms  and lots of parking in large lot.
Birch St Playground  It's fenced in  wood surface playground with a variety of climbing structures, imaginary play area, swings, infant swings, slides, and a paved path around the perimeter.
Plymouth MA playgrounds
Forges Field Park  multiple soccer and baseball park  a large play structure area, and 1.5 miles of paved walking paths.
Veteran's Memorial Field  in Plymouth  is located on  Standish Ave., near Cherry St. It has a new playground and tennis and basketball courts as well as a place to play street hockey.
Sirrico Playground is  located on South Street near the Plymouth Public Library.The park includes playground equipment and a basketball court.
Manomet Recreation Area is located of off Route 3A in Manomet/Plymouth  next to Indian Brook Elementary School. The park includes three Little League baseball fields, a youth softball field and a large playground with plenty of climbing structures.
Burton Park is located  at Mt. Pleasant Preschool on Whiting Street in Plymouth. The playground is available to the public when school is not in session.
Siever Field  in Plymouth with entrances on Standish Ave. and Liberty St is an older playground.
Nelson Memorial Beach  Playground   Located at the north end of Water Street at the top of Nelson Street in the Waterfront area. Families with children will enjoy the playground and picnic area. There is also a splash pad  area where kids can cool off on during the summer.  Other features include a small boat ramp and a bike path that follows the harbor to Hedge Road in North Plymouth. Many visitors enjoy stopping by for the spectacular ocean view.
Rockland MA Playground 
Hartsuff Park Playground on Rockland St There are multiple  climbing structure for toddlers, rock wall, balance beams, swings, triple slide, picnic tables. There are restrooms in the summer months when Hartsuff Park Pond is open for swimming.
Scituate MA playgrounds
Seaside Fun Playground Large playground with swings, slides, wooden climbing structure. Located behind the police department on Route 3A.
Stoughton MA playgrounds
Bradley M Lessa Memorial  Playground The centerpiece of the playground is the colorful jungle gym structure. There is also a swing set, a small rock-climbing wall and a fire engine with a slide. A rest area with picnic tables and benches is also provided. The Bradley Lessa Memorial Playground on West Street is nestled at the edge of the Libby Property.
The Children's Adventure Playspace Project (CAPP) is located on Pierce Street in Stoughton , behind the Jones School and next to Halloran Park.  The poured in place surface makes this our most accesible playground in town.
Picnic tables, grilles, and park benches boarder the playground equipment for all to relax and enjoy.
Weymouth MA playgrounds
Tufts Library Playground it features two playground areas — one for toddlers, and one for older children — and a small butterfly garden. A nature observation platform overlooks a small wetland.
Legion Field in Weymouth has a great fenced in playground with both toddler and bigger kid sections! And there are some nice soccer fields, tennis courts, and walking trail
Gifford Park, this is a small playground and athletic complex. It provides access to the 1.1-mile Great Pond Trail, which connects to Negus Park. There are a few picnic tables
James sullivan playground  Playground and sports field. The playground is small, with areas for younger and older children. It is surfaced with wood chips and is not fenced in. A short walk to Wessagusset Beach.
Whitman MA playgrounds
Playground located in at the Whitman town parks. Two large play structures including one for toddlers and a second one for older children. There is also a rock climbing wall and swings.