Kids Splash Pads South of Boston
With the hot weather you might want to hit one splash pad instead of the beach.    A splash pad or spray pool is a recreation area, often in a public park, for water play that has little or no standing water.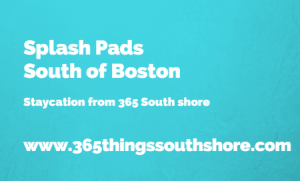 Typically there are ground nozzles that spray water upwards out of the splash pad's raindeck. There may also be other water features such as a rainbow (semicircular pipe shower), a mushroom shower, or a tree shower. Some splash pads feature movable nozzles similar to those found on fire trucks to allow users to spray others.  Great fun for moms, dads  and the kids!!
Splash pads are typically free as well!!
Here are ones South of Boston open for 2022
Pleasant Street near the Williams Gazebo and Randolph Recreation, Randolph
Open daily thru labor day 10am
Hopewell & Hamilton Streets
The Splash Pad at Hopewell Park is on! The 3,200 sq foot play area is a refreshing place to cool off in the heat. It features motion and push-button activated jets of water
shooting in different directions. This family-friendly Splash Pad is the perfect place for little ones. Opening  on Friday June 17th  from 10:00 am – 8:00 pm. Don't forget your sunscreen..
NOW OPEN  Open Daily  10am to dusk
Nelson Street Waterfront area  Plymouth
120 Gordon Rd, Braintree, MA 02184
Will be opening up  end of June  for the season daily 10am-6pm however it now seems for the 2022 season that it is only opened for Braintree Residents.   I guess there is a lifeguard asking for proof.
Quincy Splash Pads  NEW 
Kincaid park   322 Water St Quincy 
Small  water splash pad   good for little ones  waiting for opening day info
Taffrail Road waiting for opening day info
201 County Street, Attleboro
Cool Down at the Boys & Girls Club Marshfield!
Open morning M-F mornings 8-9 and afternoon 4-6pm
Sat/Sun  12-6pm   buy pass online
339 Eastern Ave, Fall River, MA 02723 (Rte. 6)
opens June 25th
Neponset Landing II Spray Deck (unguarded)
Corner of Hill Top St. and Granite St., Dorchester, MA
2022  hours  opens May 25th
Open Daily 8am -8pm
Freetown State Forest Spray Deck/Wading Pool
105 Slab Bridge Road, East Freetown, MA 02102
8AM – 6PM
Parking available in the lot.
open daily at 11am except for Tuesday
90 Main St Buzzards Bay