Weir Riverfront Splash Pad in Taunton MA 2023
The city of Taunton has opened a 2nd splash pad on the Weir Riverfront on Water Street in August 2023  A splash pad or spray pool  little or no standing water. Kids can run thru the sprays or maybe even get water dumped on them on a hot summer day.
The South Shore Boston Splash Pad Guide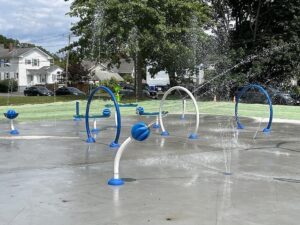 The splash pad is open daily from 9:00am to 8:00pm and will remain open through the end of this summer season. It is one of the largest municipal splash pads in Massachusetts.  Kids under 12 will be able to have fun on a hot summer days.  With 24 different spray zones, a toddler water table, and a cascading bucket water drop, the new splash pad is a welcome addition to Taunton. The splash pad is fully ADA compliant and offers a picnic area and shaded structures for families to enjoy. The splash pad is located adjacent to the Patriots Playground which offers additional fun for kids.
Make sure you check out the Hopewell Splash Pad also in Taunton