Day 354 Creative Getaway pottery and art studio in Easton MA
If you are looking to get your expressive side out during the new year then you should check out Creative Getaway studio in Easton MA. They are a Paint it yourself pottery and art studio.   Encouraging your children to be creative is a a great emotional outlet. Creative Getaway is a fantastic place for parties, field trips Ladies nights, office parties, Boy and Girl Scouts, Singles nights, Mom's clubs, Bridal showers and birthday parties.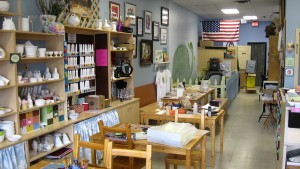 Here is how it works
You buy the pottery, Creative Getaway takes care of the rest – paint, and supplies
Walk-ins are welcome, so head in, choose your piece and paint colors, and get creative!
If you need a little aesthetic influence, Jean, the owner, is happy to lend a helping hand
Kids, friends, and families can walk in as guests and out as artists!
Special events include
Ladies Night out
Come Join the nicest group of ladies (AND the most Fun!) Bring your own beverages, sense of humor, and arty-party attitude! Prices are all inclusive. What ever you pick out plus tax.
Kids Pizza Nights
6-8:30 $20 per child. Includes Pizza and a drink and the kids will have one choice of 3 items to do!
Hours:Â Tue – Fri, 10am – 6pm; Sat, 10am – 5pm; Sun, available for functions only; Mon, closed
646 Washington St (Route 138) , South Easton, MA 02375Â |Â 508-230-5455