Day 355 North River Willdlife Sanctuary in Marshfield MA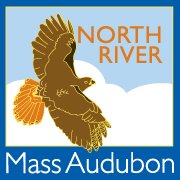 The North River Wildlife Sanctuary is located  in Marshfield MA. This  South Shore Sanctuary run by the Mass Audubon society is a half-mile boardwalk leads you on a fascinating journey through a red maple swamp and small cattail marsh to a salt marsh overlooking the North River. During the spring and summer, the Woodland Loop usually offers a look at scarlet tanagers and ovenbirds. Because the sanctuary attracts a variety of birds and wildlife during different seasons, it's exciting to visit throughout the year. Harbor seals are visible in the river as they occasionally swim past the platform at the end of the boardwalk.
This sanctuary has the following universally accessible facilities: Nature Center, Restrooms.
Nature Center/Trail Hours:
Nature Center Hours: Monday through Friday, 8:30 am to 5 pm; Saturday 10 am to 3 pm from April through December; closed on Sunday. Trails: Open every day, dawn to dusk.
Upcoming events 
Daily Events for April vacation  
Tuesday, April 21:Â In Search of Tiny Predators
Wednesday, April 22:Â Earth Day Science & Experiments
Thursday, April 23:Â Picnic on the Pond
Friday, April 24:Â Arbor Day Adventures
All programs meet at North River Wildlife Sanctuary at 2000 Main Street, Marshfield. Field trip participants will be transported in a Mass Audubon van.
April Vacation programs are a great way to see if North River Nature Camp is a good fit for your child this summer!
Special Event
Saturday   April 25, 2015
Join Mass Audubon and the South Shore Astronomical Society for this exciting event with activities for the whole family at North River Wildlife Sanctuary in Marshfield, MA. If you have a telescope, bring it along!
A free event thanks to the generosity of the South Shore Astronomical Society. There is no need to preregister, just stop by during the day or evening program… or both!
Daytime Program (noon-4 pm):
Planet, meteorite, and star displays
Solar sun-spot viewing
Activities like making solar graphs, space models, and sky maps
Childrens' stories with Cowboy Rick
Experiments with Galileo himself!
Evening Program (7-9 pm):
We will check out the night sky to view planets and galaxies. We hope to see Jupiter and its moons, Venus, the moon's mountains, and maybe even Mercury.
North River Wildlife Sanctuary
2000 Main Street
Marshfield, MA 02050
781-837-9400