Ames Nowell State Park Abington MA
Ames Nowell State Park is located in Abington  with  approximately 600 acres. Of those 600 acres, 88 of those acres contain Cleveland Pond. The rest of the park contains a great many hiking trails.  Perfect for a nature walk with kids and your leashed dog.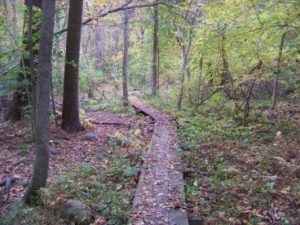 Walking trails
Ames Nowell State Park Trails is a 3.3 mile loop trail . Dogs are also able to use this trail but must be kept on leash.  The walking trails can get muddy as you are walking thru the woods with some builted boardwalks.   Would recommend boots during the early spring months
Where to walk, hike and get fresh air on the South Shore
Fishing
Enjoy a relaxing day fishing by popular Cleveland Pond. Great place for a fishing derby.  Many local boy scouts have used the area for fishing!
Activities at Ames Nowell State Park
Canoeing and kayaking
Boating (non-motorized)
Fishing
Horseback riding
Mountain biking
Cross-country skiing
Hiking
During non covid times you can bring a picnic, some bats and balls to play. They have grills and a nice pavallion.
What people say….
 Had such a good time our first visit that we decided to go back again.
They have wide trails and smaller ones that skirt the pond. Boys loved the big rocks Picnic lunch near the dam. Lots of fun!
This state park has a nice stocked pond for fishing and some great trails around the pond and through the woods. Plenty of parking and some nice fields for games and family and friend get togethers
I love this park. A nice, quick hike for your dog and access to the water. You can bring your kayak in or hike around. I have never had a problem with anybody at this park — everybody tends to be local and friendly. Good trails, shaded and sunny, large rock formations you can sit on. Just be aware that plenty of people fish, so you may some tangled lines or gear along the water. Lovely and quiet nearly all of the time. Note this is a beautiful forested area, so you may see some wild animals. Plenty of trash cans near the picnic tables and along the paved trail. Bring bug spray– some times of year are buggier than others. Try this park during a light snow too. It's beautiful.
Need to get away for just a moment, away from the hustle and bustle of loud noises, screaming people, car horns blowing and the "Everyone is in a hurry" environment? Get away for just a moment and reflect, take in a mother nature, take a hike or just a walk around the pond? Visit Ames Nowell Park, this serene park can help you unwind a bit, take a load off and bring your peace of mind back. Only one suggestion though, bring bug ointment. That would be the only thing that I can think of that might ruin the serene experience. 🙂
You can spend a lot of time walking through Ames Nowell. I bring my dog and see people of all ages enjoying the park. There are unpaved trails and limited parking in the lot on a beautiful weekend day.
Address to put in your GPS Linwood St, Abington, MA 02351