Stoughton MA Kids Birthday Party Places
The following places in  Stoughton MA specialize in children's birthday parties.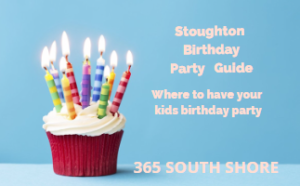 Updated for 2023
How many times have you attended a birthday party at the same ol' place? Been there, done that. Looking for an alternative to a birthday party at a trampoline park, indoor playground, or farm?
A Movie Party in a private theater is perfect for kids and adults of all ages! Choose from our list of over 600 movies, bring your own Blu-ray/DVD, or log into your favorite video streaming website. Skip all the frustrations of going to a public movie theater including limited viewing times, endless trailers, fighting a stranger for the armrest, people talking, and/or kicking your chair. Sit back, relax, and enjoy a premium cinema experience with a 200 inch screen (the size of a wall), a booming surround sound system, and cozy recliners. Options are available to add karaoke and playing video games on the movie screen as well for the ultimate party experience.
Are you looking to host a karaoke party? Well, you have reached the right place!
Karaoke parties are a fun and unique way to celebrate a birthday, graduation, baby shower, retirement, family reunion, corporate holiday party, or fun night out.
Karaoke parties are perfect for all ages. Come and sing your heart out at Boston Studio Rental!
is welcome. For more information click here. Standard function hall rentals are also available. Open 24/7 by appointment only. Boston Studio Rental 63 Wyman Street Stoughton, MA 02072 BostonStudioRental.com
Outside food 
Host your child's Birthday Party at Stoughton Tumblers Inc.!
IT'S FUN, EASY & CONVENIENT!
Birthday parties are available for children turning ages 2-18. See below for specific details!
Trampoline & Tumbling Parties
Trampoline & Tumbles parties have 100% private access to the entire gym for 2 hours. Private access to the entire gym includes all equipment (minus the stationary and traveling belt systems) and our 16×16 jungle-themed bounce house. Each party receives 1.25 hours in the gym for supervised play, followed by .75 hours in the party area for food, cake, and presents.
Parties are available every Saturday from 1:00-3:00 or 3:15-5:15. Friday evening and Sunday parties are available upon request.
Are you looking for a location other than Scituate  for a kid's birthday party check out the  South shore kids birthday party list