South Shore Boston Arcades for Kids Birthday Party
If you are looking for places to your have child's birthday party at a local arcade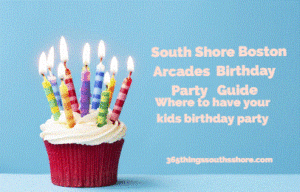 45 Washington St, Hanover, MA 02339
Starland Hanover has several different birthday party options include an arcade option
Dave & Buser's Arcade birthday games Braintree 
250 Granite St #1908  Braintree, Massachusetts
Dave & Buster's arcade  kids birthday parties are perfect for all ages. With kid-friendly food to keep them fueled for fun and hundreds of games in our Million Dollar Midway, there's something for everyone. We'll do the work—they'll have a blast!
Barrett's Ale House West Bridgewater
674 West Center St West Bridgewater
With more than 50 arcade games to choose from, our Game Room's got something for everyone. Revisit retro favorites or try your hand at a new challenge—we've got the latest arcade offerings as well as classic fixtures like Skee-Ball and air hockey.  Formeley the Charlie Horse
Pinz Bowling and Games Kingston Mall
101 Kingston Collection Way Kingston, Massachusetts 02364
PiNZ is full of fun and engaging activities for you to enjoy including the latest in games, virtual reality, shuffle board, ping pong and pool tables.
We also have over 40 arcade games such as Pac Man, Angry Birds, and drivers. With our fresh rotation of state-of-the-art gaming, experience an infinite combination of options.
We also offer a wide variety of commemorative items in our Prize Store for you to choose from after winning big on the redemption games. PiNZ uses state of the art technology to enable you to play the games while tracking your credits and redemption points. Simply load, play and win – quick and easy.
Are you looking for a location other than Arcade   for a kid's birthday party check out the  South shore kids birthday party list