Easton Festival of Trees 2022
The Easton Charitable Trust proudly announces the 9th annual Festival of Trees! This
year's Festival will be held for three weekends (Thursday to Sunday) from November 26th – December 11th   at the Easton Country Club located at 265 Purchase Street. The Country Club was founded in 1961, and this family owned and operated establishment is the perfect venue for the magnificent display of beautifully decorated holiday trees.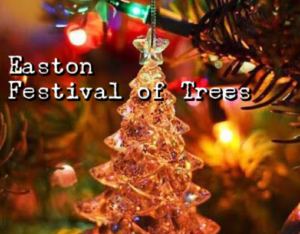 Check out all the holiday fun on the South Shore
Easton Festival of Trees is a popular annual fundraiser that invites thousands of residents from surrounding towns to revel in the holiday season through a magnificent display of beautifully decorated holiday trees.
All trees are donated by local residents, merchants, and organizations, resulting in an impressive variety of 70 + themes and designs. Shown in the classic setting of the Easton Country Club, attendees are welcome to take a chance on winning one of the trees or simply bask in their glow while enjoying a delicious club snack or drink.
Special events 
Holiday Hayride Sing along at Easton Festival of Trees
Saturday November 26th  multiple times
Back by popular demand, the Easton Festival of Trees is bringing back the Holiday Hayride Sing Along. For a super low price you and your family can climb on board and sing all the holiday favorite songs along with the talented Grogan Family. A motorized hayride takes you down a magical winding path to a decked-out holiday stand. Make a smores and warm cocoa out at the firepit! Head back on the ride and who knows…you just might encounter one of your favorite holiday characters! Limited seats are available, so don't miss out on this FUNtastic trip – book your tickets today!
Note: Admission to the Easton Festival of Trees is separate from the Hayride
Victorian Carolers
SATURDAY NOVEMBER 26, 2022
SATURDAY DECEMBER 3, 2022
SUNDAY DECEMBER 4, 2022
SATURDAY DECEMBER 10, 2022
Back again by popular demand, for their final appearance, the Victorian Carolers classic voices, period piece outfits and songs are sure to get your holiday spirit going. included with the price of Admission to the Festival of Trees.
Marketplace Shopping 
SUNDAY NOVEMBER 27, 2022 12-4pm
The Marketplace Shopping is included with your paid admission​. There will be over 25 local artisans for you to peruse their special & unique crafts. Come stroll the Festival of Trees, check out the other attractions, and then do some Christmas shopping at the Marketplace!
Antique Car Display
SUNDAY DECEMBER 4, 2022 12-3pm
The Old Colony Model T Club will be rolling their treasured cars in from noon to 3p.m. Dress for the great outdoors to stay warm while strolling through these awe-inspiring cars. Come inside afterwards to have a warm drink at the cafe and peruse through the magical trees.
Jubilate Chorale
FRIDAY DECEMBER 9, 2022 7 – 7:30PM​
​​
Jubilate Chorale, Inc. is a renowned community choir based in Brockton, with singers from around the southeastern Massachusetts region. They perform two seasonal concerts in December and in May, under Murray Kidd, Conductor & Artistic Director. The Chorale also has a smaller chamber group that also performs at local events. For more inform
Generations Music Group
SATURDAY DECEMBER 10, 2022   6:30 – 8PM​​
The Generations Family Music Group are returning to sing at Festival of Trees! It has been 4 years and we are very excited that have them back. You will be amazed by the musical talent of this family. Mark your calendar-you won't want to miss it!
Brownie Troop #64993 Caroling
SUNDAY DECEMBER 11, 2022  1 – 1:30PM​​
Brownie Troop 64993 will be entertaining us with their musical talents singing everyone's favorite Christmas and Holiday songs.
Thursday & Friday 4pm -8pm
Saturday & Sunday 12pm-8pm