Enchanted Village and Polar Express at Jordan's Furniture in Avon MA 2022
The Enchanted Village will open for the  2022  Christmas   Holiday season on  Friday November 11th   The animated village is free and open in Avon through January 1st.
Enchanted Village Hours
Monday-Thursday   11 a.m. – 7 p.m.
Friday   11 a.m. – 8 p.m.
Saturday   10 a.m. – 8 p.m.
Sunday  11 a.m. – 5 p.m.
Photos with Santa Hours
Monday – Friday  12 p.m. – 5 p.m.
Saturday  11 a.m. – 6 p.m.
Sunday  11 a.m. – 5 p.m.
December 24th   12 p.m. – 3 p.m.
As a child I remember going to the Enchanted Village in Jordan Marsh during the 1970s, taking the train in and spending such a magical day during the Christmas season.   Now you are able to share this with your own children at the Jordan's furniture store in Avon plus there is also a magical 4D ride on the Polar Express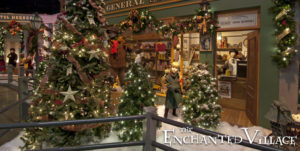 Check out all the Christmas Holiday Fun South Shore Boston
Once, called the Enchanted Village of St. Nicholas, the holiday display was originally created in 1958. At that time, Jordan Marsh Company commissioned a Bavarian toy maker to create 28 fully decorated holiday scenes with 250 magical  animated figures.
Throughout the 1960s and into the 1970s, Jordan Marsh displayed the Enchanted Village in its Downtown Crossing store. The heart-warming display quickly became an integral part of New England's seasonal celebrations. Until 1972, when Jordan Marsh closed the display, a trip to The Village was a traditional event.
The Enchanted Village remained closed from 1972 until its rebirth in 1990. Then, in 1998, when Macy's  purchased Jordan Marsh, the Village was sold to the City of Boston for a City Hall Plaza display. In 2003, a lack of funding forced the Village to move to the Hynes Convention Center. By 2006, Boston stopped displaying The Village altogether. In 2009, the Village was put up for auction.
Jordan's Furniture purchased the surviving pieces of the Enchanted Village at auction in May of 2009 and restored the vintage collection to its former glory. The surviving collection includes 59 mechanical figurines and 18 vignettes. The Village is on permanent display in Avon, and is open for all to enjoy during the holiday season.
We're excited to bring back the magic of The Enchanted Village.
The Tube
$3 per ticket
Slide down a big mountain in a colorful inner tube – it's like a backyard hill without the snow, and you won't get cold. It's a thrilling experience the whole family will love!
The Polar Express
$9 per ticket
Go on an amazing 4D adventure when you ride The Polar Express. This train ride to the North Pole proves that the wonder of life never fades for those who believe.
LITE
$8 per ticket
The newly enhanced Laser Imagination Theater Experience is more dazzling than ever! You'll thrill to state-of-the-art, high-resolution laser graphics synchronized to modern holiday music the whole family will love!
Enchanted Ice
$8 per ticket (includes skate rental)
Glide around an indoor skating rink without a coat, scarf or gloves. Holiday music and theatrical lights make skating on over 4,000 square feet of artificial ice a magical pleasure. Bring your skates or use ours.
Reindeer Games
$2 per ticket
Everyone can join in our reindeer games! Test your skills on this challenging game that's fun for kids and adults alike.
Jordan's Furniture
100 Stockwell Drive
Avon, MA 02322