Enchanted Village and Polar Express at Jordan's Furniture in Avon MA 2023
The Enchanted Village will open for the  2023 Christmas   Holiday season on  Friday November 10th   The animated village is free and open in Avon through  Monday  January 1st 2024
Enchanted Village Hours in Avon 
Monday-Thursday   11 a.m. – 7 p.m.
Friday   11 a.m. – 8 p.m.
Saturday   10 a.m. – 8 p.m.
Sunday  11 a.m. – 5 p.m.
Photos with Santa Hours in Avon 
Monday – Friday  12 p.m. – 5 p.m.
Saturday  11 a.m. – 6 p.m.
Sunday  11 a.m. – 5 p.m.
December 24th   12 p.m. – 3 p.m.
As a child I remember going to the Enchanted Village in Jordan Marsh during the 1970s, taking the train in and spending such a magical day during the Christmas season.   Now you are able to share this with your own children at the Jordan's furniture store in Avon plus there is also a magical 4D ride on the Polar Express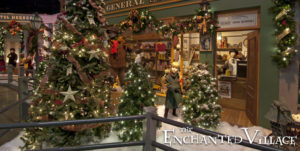 Check out all the Christmas Holiday Fun South Shore Boston
Once, called the Enchanted Village of St. Nicholas, the holiday display was originally created in 1958. At that time, Jordan Marsh Company commissioned a Bavarian toy maker to create 28 fully decorated holiday scenes with 250 magical  animated figures.
Throughout the 1960s and into the 1970s, Jordan Marsh displayed the Enchanted Village in its Downtown Crossing store. The heart-warming display quickly became an integral part of New England's seasonal celebrations. Until 1972, when Jordan Marsh closed the display, a trip to The Village was a traditional event.
The Enchanted Village remained closed from 1972 until its rebirth in 1990. Then, in 1998, when Macy's  purchased Jordan Marsh, the Village was sold to the City of Boston for a City Hall Plaza display. In 2003, a lack of funding forced the Village to move to the Hynes Convention Center. By 2006, Boston stopped displaying The Village altogether. In 2009, the Village was put up for auction.
Jordan's Furniture purchased the surviving pieces of the Enchanted Village at auction in May of 2009 and restored the vintage collection to its former glory. The surviving collection includes 59 mechanical figurines and 18 vignettes. The Village is on permanent display in Avon, and is open for all to enjoy during the holiday season.
We're excited to bring back the magic of The Enchanted Village.
The Tube
$3 per ticket
Slide down a big mountain in a colorful inner tube – it's like a backyard hill without the snow, and you won't get cold. It's a thrilling experience the whole family will love!
The Polar Express
$9 per ticket
Go on an amazing 4D adventure when you ride The Polar Express. This train ride to the North Pole proves that the wonder of life never fades for those who believe.
LITE
$8 per ticket
The newly enhanced Laser Imagination Theater Experience is more dazzling than ever! You'll thrill to state-of-the-art, high-resolution laser graphics synchronized to modern holiday music the whole family will love!
Enchanted Ice
$8 per ticket (includes skate rental)
Glide around an indoor skating rink without a coat, scarf or gloves. Holiday music and theatrical lights make skating on over 4,000 square feet of artificial ice a magical pleasure. Bring your skates or use ours.
Reindeer Games
$2 per ticket
Everyone can join in our reindeer games! Test your skills on this challenging game that's fun for kids and adults alike.
Check out the reviews from local moms in our group
The Enchanted Village is an animatronic display created by Jordan Marsh in 1958. It was displayed in their Downton crossing Boston location until 1972. Revived in the 90's and early 2000's- the display was auctioned and bought by Jordan's Furniture which had it restored and displays it free of charge at their Avon, MA store each Christmas. The Christmas experience  continues with a Polar Express "4S" ride, laser light show, games and an indoor skating rink. The other rides require tickets. Can be very busy on the weekends, it's great for kids- expect to wait 10-30 minutes in line to get in.
Great experience! Such a fun way to get in the holiday spirit  Took 2 nine years old boys today. They were blown away by everything. The displays were very detailed, we couldn't believe how realistic they were and the animation was cool. They enjoyed the light show and the Polar Express ride was great.
Be aware that there is going to be alot of people, long lines and some things will cost a little but it was well worth it. We spent almost 3 hours there and enjoyed every minute. The staff was great and did everything possible to run things as efficiently as possible.
Go on a weekday afternoon! Thanks! We got there around 3:30 and walked right in with no wait. No wait to see Santa. We were able to buy tickets to anything we wanted to and received skates right away. We left around 5:30/5:45 and it was starting to get busier.
Absolutely buy tix for light show/ polar express ahead of time…both were sold out today during the day, not even after school hours. But the actual enchanted village wasn't busy
If you are a fan of the movie Christmas Story (You'll Shoot Your Eye Out ); then you've got to visit the Enchanted Village in Avon MA. The original animated Christmas displays that were showcased at Jordan Marsh Department Store in Downtown Boston in the 50s, 60s & 70s have been fully restored & are here for everyone to enjoy once again. They even make it Snow Inside. You will immediately feel the connection to this place. This is Free Event & Free Parking. They also have PAID attractions here like Polar Express 4D Movie, The Indoor Plexi Glass Ice Skating Rink, Lite, Santa, Racing Reindeer. There is even a life size Ray Charles singing & playing his piano. They also have their famous Jordan Marsh Blueberry Muffins. They got the original baker who baked them in the 70s & yanked him out of retirement to make these muffins once a year. It's a tradition that people take home a box of the Jordan Marsh Blueberry Muffins. They taste DELICIOUS grilled, nice & warm with melted butter.
. Come here in November or after Christmas it's open until New Years; You'll avoid the huge lines. If you must come in December go during the week & at off times
We went last Wednesday around 1130am  We bought tickets to Polar Express and snow tubing online, about 5 days before. We did that first. You just have to go upstairs at Jordan's to get to the end of the Enchanted Village, to where all the extra activities are. They call when they are seating. for polar express and you go and they put you in line. Get in line about 15-20 mins earlier so you can sit together if a larger group. After that we did santa. The line looked worse than it really was. Then we walked out to the start of the Enchanted Village ans there was zero wait.
The down side was having to walk all  the way and forth to the end and beginning of enchanted village, but it wasn't too bad.
Jordan's Furniture
100 Stockwell Drive
Avon, MA 02322