Hingham MA summer camps and programs 2023
The following places in Hingham MA have summer camp and program
Updated for 2023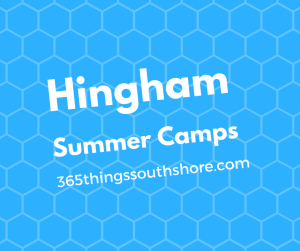 SUMMER VACATION CAMP
Days:  Monday – Thursday
Dates:  July 10 – 13 and July 31 – August 3
Time:  9am – 12pm
Location:  Carlson Field, Hingham
Standard Pricing:  $250 one week/ $450 two weeks
Register at selectma.com.
BEHN BASKETBALL CAMP NOTRE DAME ACADEMY IN HINGHAM
JULY 10-14, 2023
Check-in: Monday from 8:30am-9am
Closing Ceremony: Friday 2:30pm. Departure immediately following.
Camp Hours: TUES-FRI 9am-3pm
This girls only session at Notre Dame Academy aids players in learning the fundamentals and advancing their offensive skills in a fun and competitive environment. Players, ages 8-16, looking to get better, make friends, and have fun are encouraged to attend!
The Complete Skills Camp helps players of all abilities develop athletically, refine fundamental basketball skills and enhance their skill set at the post, wing or guard position.
HIGHLIGHTS INCLUDE
Emphasis on fundamentals and focus on proper shooting technique
Learning team play on both offense and defense
Official Behn Camp T-shirt
Unlock your true potential in Hingham, MA and work on your offensive, defensive, and team play skills with top-rated coaches in summer 2022. Choose to attend one, two, or three weeks of high energy scrimmages, drills and serious fun!
ASA Hoops Nike Basketball Camps are designed for the player looking to improve their overall game and basketball IQ. Emphasis is placed on fundamental development, shooting technique, offense and defense work, and team play.
HIGHLIGHTS INCLUDE
Fundamental instruction, individual development, and team play
Off-court discussions and activities to enhance on-court game
Receive a Nike Basketball Camp t-shirt and other prizes!
2023 DATES
Session I: June 19-23
Session II: July 31-August 4
Session III: August 7-11
CAMP HOURS
Check-in: Monday at 8:30AM
Half Day Hours: MON-FRI 9AM-12PM
Full Day Hours: MON-THURS 9AM-3PM FRI 9AM-2PM
Summer@NDA 2023
Join us on the Notre Dame Academy, Hingham campus to experience Summer@NDA! We offer an array of programs from Athletics to Academics for elementary, middle, and high school students in grades 2-12.
One to two-week program options are offered June 26- August 11 from 8:30 a.m. to 12:00 p.m. in air-conditioned NDA facilities and athletic facilities.
Come learn, lead, and explore with us this Summer@NDA 2023.
Academic Programs
Introduction to Geometry
Introduction to Cuvilly Math
Introduction to Algebra I
Introduction to Grade 9 Composition and Comprehension
Introduction to Cuvilly English
Athletic Programs
Basketball – Rising 2nd through 8th graders
Girls Youth Soccer – Rising 2nd through 8th Graders
Billiart Leadership Institute (BLI)
Summer Internship Program
Guidance and College Counseling
College Admissions Boot Camp
Summer Arts
A five-week comprehensive arts program offering more than 100 courses, including drama, music, dance, visual arts, film & video, gymnastics, writing, animation, photography and sports. Programs for children ages 3-15.
Specialty Camps
These one-week specialty programs are designed to be both exciting and educational. With exceptional facilities and direction from experienced and creative professional staff, students can choose from programs including Robotics, Musical Theater, Visual Arts, Gone Fishing, Super Science Explorers, In Stitches, Neighborhood Playhouse, and Nike Basketball, Game Design, Youth Digital App Design, Youth Digital Video Game Design, and Digital Photography & Photoshop. Programs for campers ages 5-15.
SUMMER ARTS | June 26-July 28
JUNE 26–JULY 28
MON–FRI
AGES 4 & 5: 9AM–1PM
SPECIALTY WEEK | July 31-August 4
JULY 31-AUGUST 4
MON–FRI | 9AM–2PM
AGES 5–15
South Shore Conservatory's summer programs inspire music, dance and drama students to perfect their skills and meet students from other towns who share the same passion for the arts. There's something for everyone at the Conservatory over the summer months. Find out what's  here for you!
Summer hockey camp held at Pilgrim Arena
07/17/202307/20/2023 Total Skills Development full and half day
07/31/202308/03/2023  Total Skills Development full and half day
All of the Greg Carter European Hockey Training Camps focus on individual skill development (ISD) to help students become more complete players. Through our unique drills, students will improve their control, agility, reflex, technique, edge, and muscle retention skills. Our ISD approach enables our students to learn each skill in a controlled environment and then apply speed and game situations to complete the lessons.
This camp will help you turn the corner on your path to hockey greatness! Our Total Skills hockey camp focuses on individual skill development (ISD) and uses unique on-ice equipment to challenge and motivate skaters. During this camp, you will improve your control, agility, reflex, technique, edge, and muscle retention skills. You'll also learn some offensive and defensive moves, and get a chance to work on your new skills in controlled game situations.
"This Program must comply with regulations of the Massachusetts Department of Public Health and be licensed by the local board of health".
If you are looking for summer camp in other towns besides Hingham  Massachusetts , check out the  South Shore Boston Summer Camp guide.