Hingham Downtown Christmas in the Square 2022
The Hingham Downtown Association keeps Hingham's holiday traditions alive with the  annual Christmas in the Square on Friday December 2nd    evening from  5-8pm.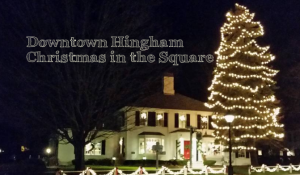 A  beloved tradition for all ages, Christmas in the Square is old fashioned seasonal, community fun with sparkling lights throughout town, a police escort of Santa on a fire truck and visits with him on South Street, shops open late and offering special treats, and live music performed by local musicians and student groups.
Santa will arrive atop a fire truck in the Square in a winter wonderland of white lights and festively decorated shops.
Live music from local musicians and student groups
Giant Sized Peppermint sticks and other holiday novelty gifts available for purchase
The classic movie "It's a Wonderful Life" will be projected on the train vent courtyard along with a magical snow show (cotton ball shower) sponsored by Saint Paul School
Watch an ice sculptor create a waving Santa from a giant block of ice
The Festival of Trees.
This year the event will be hosted at the Hingham Community Center on Friday December 2nd from 5-8:30pm. Bidding is also available online until Saturday December 3rd at 9pm. Sponsored by Hingham's Women Club
There will be refreshments for the whole family to enjoy as well as a warm place to step inside during Downtown Hingham's Christmas in the Square Festivities. See you there!
Make sure you check out Saturday Holly Jolly Hingham