Hanson Holiday Fest and Fireworks 2022
Hanson  will be hosting their   annual Holiday Festival and fireworks  on Saturday December 3rd from 5-7pm at Town Hall.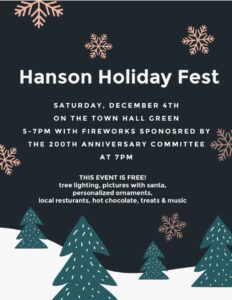 Check out all the South Shore Holiday Events 
Due to the planning with volunteers and the firework company, Saturday's Holiday Fest WILL STILL CONTINUE as planned. So grab a poncho and an umbrella, do a rain dance, and let's make the most of it!
Enjoy food samples from local restaurants, baked goods, music, personalized Santa hats, picture with Santa, the annual lighting of the tree, and to end the night, fireworks!
This event is free but please consider bringing a non-pershible item for the Hanson Food Pantry
Special fun
The Grinch of Hanson will be making an appearance!
Snowy the Snowman will be back for photos and candy canes! And enjoy your favorite holiday music by DJ Clay!
Be sure to stop by Hanson PTO's table for a holiday craft and Sullivan Funeral Home's table for personalized ornaments!
If you're looking for creative and green ways to wrap your presents this year, stop by Green Hanson's table for some great ideas!
The Hanson Fire department will be hosting breakfast with Santa in the  morning reservations needs at Meadowbrook