Marshfield MA summer camps and programs 2023
The following places in Marshfield  MA have summer camp and programs
updated for 2023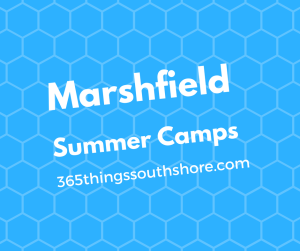 South River Elementary School – Camp Invention: Wonder
For children entering grades 1 – 6
Leader-in-Training spots for grades 7 – 9 may be available.
Price: $315
Location: 59 Hatch St
Marshfield, MA 02050
Program Dates: 6/26/2023 – 6/30/2023
Program Times: 9:00 AM – 3:00 PM
Introducing our 2023 program, Wonder!
Give your young innovator an inspiring, action-packed summer adventure! All-new, hands-on challenges will spark their curiosity and build their confidence as they jump into limitless STEM fun with opportunities to imagine, plan, experiment and create. Read more about what your camper will do each day at camp:
PROBLEM SOLVING
Campers explore physics, design engineering and art as they build their own mini skate park, create DIY riders, personalize their mini skateboards and try out challenging features like ramps, bowls, jumps and rails.
CREATIVITY
To create an epic celebration, campers become event planners who engineer light-up party hats, use the science of color to create a bubble art banner and invent a Party Assistant to help bring their plans to life.
PERSISTENCE
Campers transform their own robot into a one-of-a-kind animatronic stuffie, and then use inspiration from nature and the power of intellectual property to protect their creation from an idea-stealing Copy Cat.
ENTREPRENEURSHIP
Ideas pop up as campers launch their own pop-up business, make smart financial decisions, and use entrepreneurship skills and creative strategies to attract customers with the ultimate pop-up event.
The  North River Nature Camp in Marshfield, we promote a child's lasting curiosity and care of the natural world. Our goal is to nurture an understanding and appreciation for nature, inspire responsibility for the environment, and have fun!
With a mix of forest, field, and marsh habitats, our 225-acre wildlife sanctuary provides lots of outdoor space to explore and experience a new adventure each day. Sessions incorporate hikes, nature activities, outdoor games, stories, crafts, songs and more.
Program Descriptions & Hours
Weekly sessions have campers discovering and learning about habitats and wildlife found on the South Shore. Small group sizes ensure that we create an environment where each child matters and that we provide a high-quality educational experience and a welcoming, supportive environment.
2023 Camp Sessions & Dates
View full descriptions, weekly themes, & sliding scale pricing in the brochure >
Nature Camp
Monday–Friday • 9:00 am–3:00 pm
Weekly sessions from June 26–August 18 (except where noted for Naturalists)
Age Groups
Discoverers • Ages 4.5–6 (entering grades K–1)
Explorers • Ages 7–8 (entering grades 2–3)
Naturalists* • Ages 9–12 (entering grades 4–6)
Weekly Nature Camp Themes
Everyday Adventures • June 26–30
Webs of Wonder • July 3–7
Ribbiting Rivers • July 10–14*
Fearless Fliers • July 17–21*
Crafty Crayfish • July 24–28
Nature Heroes • July 31–August 4*
Rabbits, Racoons, and Riddles • August 7–11
Summer Rewind • August 14–18
Customizable Scheduling
Weekly and daily options
Early drop-off (8:00-9:00am available)
Late pick-up (4:00-5:00pm available)
Something for Everyone
Camp Clubhouse Sr. (ages 12-14)
New and improved C.I.T. Program (age 15)
Facility Enhancements
New outdoor multi-purpose sport courts
New swing set and slide
Back by Popular Demand!
10 weeks of fun
Separate camp for 5&6 year olds
Specialty Camps
Caring and dedicated staff team!
* Dates Subject to change based on Marshfield Public School end date
Week 1: June 19th – 23rd
Week 2: June 26th – June 30th
Week 3*: July 3rd – 7th
Week 4: July 10th – 14th
Week 5: July 17th – 21st
Week 6: July 24th – 28th
Week 7: July 31st – August 4th
Week 8: August 7th – 11th
Week 9: August 14th – 18th
Week 10: August 21st – 25th
* NO camp on Tuesday, July 4th, fees prorated.
Summer Gymnastics Program for  kids 2023
to be a part of the Tumblefun experience. We have added a Green space- 30 by 40 sodded fenced-in area for our gymnasts to enjoy the outside.
Tumblefun Gymnastics will be offering AM, PM & Full Day Gymnastics Monday thru Friday starting on June 13th(am sessions) and June 21st (full-day sessions begin).
Pick and Choose the Days that work for you!
Drop off – Ages: Potty trained and up
June 13th – August 25th
AM: 9:30-12:00 pm, PM: 12:30-3:00 pm or Full Day 9:30-3:00 pm$45/Half day or $90/Full Day
Adventures and memories await at this "old fashioned" camp, which is typical of many of our childhood recollections. Set adjacent to Marshfield's wetlands, on the pristine banks of the North River, our facility offers a unique summer experience surrounded by nature on historic land.
2023 SUMMER CAMP THEMES
7/3 to 7/7
Holiday Hoopla (no camp on the 4th)
7/10 to 7/ 14
Sports Warrior Week
7/17 to 7/21
Down by the farm
7/24 to 8/28
Carnival Craze Week
7/31 to 8/4
Blast from the past
8/7 to 8/11
Heroes & Villains
8/14 to 8/18
Theatre, Music, Arts
Winter break, spring break, summer break—when school's out (but you still need to work), you can count on KinderCare to provide a safe and supportive learning environment that's focused on fun. We welcome children ages 5–12 during school break times and make sure they have a sensational, screen-free experience they won't forget.
If you are looking for summer camp in other towns besides Marshfield  MA check out the South Shore Boston Summer Camp guide.