South Shore Boston Christmas Holiday Events 2021
The Christmas Holidays will be here before you know it!    Here are  Christmas activities on the South Shore South Shore of Boston for 2021   We will be adding  Christmas things to do  as we find out about them and 2021  dates are confirmed !  Please share on our facebook page if you see something listed.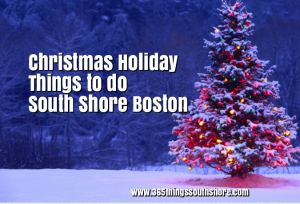 Ongoing events
Breakfast with Santa  2021 List 
Christmas  LIVE  Holiday show everything from Elf, to Christmas Story to Rudolph 
Christmas Light Displays South of Boston  Find out the best ones!!
Santa's Wonderland at Bass Pro Shops Patriot Place  in Foxboro MA
La Salette shrine North Attleboro 
Enchanted Village in Avon including a 3D Polar Express ride starts  Thursday November 11th
Edaville RailRoad Festival of Lights Carver MA  start Friday November 12th
Marshfield Fair Holiday Lights Display November 19th , through the end of December!
Gillette Stadium Magic Of Light Drive thru November 19th through the end of December
Winterlights in Canton 5pm open weekends!
Limited tickets left Cookies, Paws and Santa Claus at Buttonwood Zoo 
Cape Cod Polar Express Train Buzzard Bay Weekends
Heritage Museums and Garden Gardens Aglow in Sandwich MA
Elf The Musical Cotuit Center for the Arts Falmouth Nov 23rd thru Dec 19th 


Friday November 26th  
Saturday November 27th
Holly Jolly Hingham Hayrides & Holiday Fun 10am
Santa arrives by parachute in Helicopter 12pm 
Middleboro Christmas parade 12:30pm
Humarock Hollydays + Tree Lighting Marshfield 130pm
Sunday November 28th
Quincy Holiday Christmas Parade 12pm
Thursday December 2nd
Friday December 3rd
Scituate Holidays on Harbor 4pm
Christmas in the Square Hingham 5pm
Hanover Four Corners Winter Festival   530pm
Saturday December 4th
Breakfast with Santa  Meadow Brook Hanson  830am, 10am & 1130am
Breakfast with Santa Claus at Irish Cultural Center Canton 930am 
East Bridgewater Christmas on the Commons & Parade 10am
Santa at the Bogs Middleboro 10am
Santa arrives by boat Cohasset 10am 
Santa Arrives by Boat in Scitaute Harbor 
Easton Festival of Trees 12pm kids day at 10am
Holly Jolly Hingham Hayrides & Holiday Fun 11am
Santa at Marshfield Town Pier 1130am
Santa Arrives by Boat in Plymouth  12pm
Haddad's Ocean Café Marshfield Cookie & Ornament Decorating 130pm
Abington Celebrates Christmas Christmas at Island Grove 4pm
Holiday Tree Lighting – Brant Rock Esplanade  Marshfield's Merry Days – The Jetty – Marshfield 4pm
Lighting of the Green and Lights On Festival Taunton MA 3-8pm
Southeastern Philharmonic Orchestra Christmas Concert Weymouth 730pm
Sunday December 5th
Breakfast with Santa at VFW Dedham 830am
Breakfast with Santa at The Sachem Rock Senior Center! East Bridgewater 9am
Brunch with Santa  The Fireside Grille Middleboro 10am 
Santa Visits Mistletoe Farm in East Bridgewater 10am
Abington Celebrates Christmas Pet Photos & Santa 10am
Abington Celebrates Christmas -Holiday Bowling tournament 11am
Bridgewater Christmas On The Common 12pm
Southeastern Philharmonic Orchestra Christmas Concert Whitman 230pm
Abington Celebrates Christmas Holiday Concert 4pm 
Tree Lighting at Dandelion Park Marshfield  4pm
Friday December 10th
Whitman Hanson Holiday Lighting & Food Trucks 4pm
Elf the Musical at Abington High school 730pm
Saturday December 11th
Breakfast with Santa  Old Colony YMCA – Plymouth 8am 
Breakfast with Santa Harmon Golf Rockland 9am
Holly Jolly Hingham Hayrides & Holiday Fun 11am
Merry Historic Milton Family Fest 11am
Christmas at King Caesar Duxbury 2pm
Milton Holiday Stroll & Tree Lighting   2pm
Whitman Hanson Holiday Lighting & Food Trucks 2pm
Elf the Musical at Abington High school  2pm  & 7pm
Plymouth Phil Holiday Pops! 3pm & 730pm
Weymouth 400 Tree Lighting and Holiday fun 3pm
Christmas Carol Sing-Along Foxboro  6pm
BBC Presents The Nutcracker at East Middle School 2021 6pm
Sunday December 12th
Brunch with Santa  The Fireside Grille Middleboro 10am 
BBC Presents The Nutcracker at East Middle School 2021 2pm 
Home for the Hullidays Hull MA 2021 2pm
Christmas at King Caesar Duxbury 2pm
Plymouth Phil Holiday Pops! 3pm 
Plymouth North HS Boosters Holiday Drive of Fame 430pm
Whitman Hanson Holiday Lighting & Food Trucks 4pm
Saturday December 18th
Breakfast with Santa!  Barrett's Alehouse Bridgewater  8am
Holly Jolly Hingham Hayrides & Holiday Fun 11am
Santa Arrives by Helicopter at Range Hingham 1pm
Drive thru Polar Express Marshfield  2pm 
Kingston  Luminary Festivities  530pm
Sunday December 19th
Clydesdale Sleigh Rides in Hanover reservation needed 
Red Acres Annual Christmas Sing 2021  in Hanson MA 2pm