Milton MA summer camps and programs 2023
The following places in Milton  MA have summer camp and programs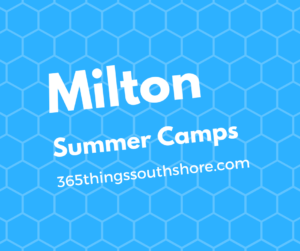 Updated for 2023
Camp Cunningham is open for eight weeks during the summer months. It is a licensed, traditional day camp offering
swimming, sports, arts and crafts,  special events and field trips. Campers  can enroll for any or all of the eight
weeks. Operated by Milton Community   Schools. dates for 2023 will be released in early March
Mass Audubon's Blue Hills Summer Camp in Milton offers campers (grades K-12) a unique location to discover nature through hands-on exploration, creative play, and active learning. Each session features an age-appropriate theme intended to deepen each child's knowledge and awareness throughout the summer and beyond camp. Our high staff to camper ratio and experienced, caring staff create a friendly and safe atmosphere on "The Hill."
Located atop scenic Chickatawbut Hill, the second highest peak in the Blue Hills Reservation, the camp is operated by Mass Audubon's Blue Hills Trailside Museum in partnership the Massachusetts Department of Conservation and Recreation.
2023 Camp Sessions & Dates
Nature Camps
Weekly sessions from June 19–August 18
Monday–Friday, 8:30 am-3:00 pm
View full descriptions, dates, & costs in the brochure >
Age Groups
Chickadees • Ages 5–7
Counselor-to-Camper Ratio: 1 to 5
Naturalists • Ages 7–9
Counselor-to-Camper Ratio: 1 to 8
Explorers • Ages 9–11
Counselor-to-Camper Ratio: 1 to 8
Adventurers • Ages 11–13
Counselor-to-Camper Ratio: 1 to 8
Weekly Session Themes
Mini-camp: July 5–7
Please note there will be no camp on July 3–4
Avian Adventures: June 19–23, July 24–28
Amazing Animal Adaptations: June 26–30, July 31–August 4
World of Plants: July 10–14, August 7–11
Wildlife Detectives: July 17–21, August 14–18
Extended Day Option
After Camp Program • 3:30–5:30 pm
Pre-registration required
Counselors-in-Training (CIT)
For ages 14–16 (must be at least age 14 by the start of camp)
Mandatory training week: June 26–30
Monday–Friday, 8:30 am-3:00 pm
Extended-Day Option
After-Camp • 3:00–5:30 pm
Pre-registration required
$75/week or $16/day
Pricing & Affordability
Sliding Scale Pricing
Mass Audubon is committed to ensuring that every family that wants their child to experience summer camp should have the opportunity to do so. A sliding scale model helps us work toward that goal through an easy and dependable process for families.
Under the sliding scale model, every family will enroll for camp at a tuition rate based on their annual gross income. At registration, you will have the opportunity to select the pricing tier that best fits your family's gross income. If you select Tiers 1–4, you will be asked to upload income verification documentation at a later time. Registrants at Tier 5 do not need to provide income verification.
Financial Aid
If cost is still a barrier under the sliding scale structure, financial aid is also available based on demonstrated financial need and available funds. Scholarships are limited to one session per child; however, all applications are considered and will be accepted on a rolling basis. Payment plan options are also available. Download a financial aid application
BEHN Basketball Camp is returning to Pierce Middle School in Milton in 2023. This camp offers a fast paced program that teaches kids how to have a good time while working hard to improve their skills.
The largest and most successful basketball camp in New England, BEHN Basketball has grown throughout Eastern Massachusetts for the past 29 years with a reputation of excellent teaching focused on fundamentals. Our experienced coaches create an intense yet comfortable atmosphere that encourages learning and development. The goal is for each player to leave camp with improved skills, increased confidence, and acquired knowledge on how to practice and succeed. And of course we have fun too!
BEHN Basketball Camp Pierce MS   Jul. 17 – Jul. 21, 2023
Highlights Include
Emphasis on fundamentals
Focus on proper shooting technique
Learning team play on both offense and defense
Appreciation of competition and good sportsmanship
Official Behn Camp T-shirt
Making friends and having fun
Work on your basketball fundamentals in summer 2022 in Boston, MA with Coach George Moses and his team of top-notch instructors. This day camp is geared towards boys and girls of all abilities and is the perfect place to meet new friends, improve your skills and have serious fun!
A Step Ahead (ASA) Nike Basketball Camps are designed for the player looking to improve their game and basketball IQ. Emphasis is placed on fundamental development, shooting, offense/defense, team play, and more.
HIGHLIGHTS INCLUDE
Fundamental instruction, individual development, and team play
Off-court discussions and activities to enhance on-court game
Receive a Nike Basketball Camp t-shirt and other prizes!
CAMP DETAILS
2023 DATES
Day Camp I (Coed, Ages 7-16): July 10-14
Day Camp II (Girls, Ages 7-16): July 17-21
Overnight or Day Camp III (Coed, Ages 7-16): July 24-28
CAMP HOURS
Day Camp I & II:
Check-in: Monday at 8:30AM
Closing Ceremony: Friday at 1:30PM
Meals: Lunch is not included, please bring a packed lunch. A concession stand will be open for lunch purchases.
Daily Hours: MON-THURS 9AM-3PM FRI 9AM-2PM
Day Camp III:
Check-in: Monday at 8:30AM
Closing Ceremony: Friday at 11:30AM. Check-out to follow immediately after.
Meals: Lunch is included for all campers Monday-Thursday. Lunch is not provided on Friday.
Daily Hours: MON-THURS 9AM-4PM FRI 9AM-12PM
OVERNIGHT CAMPERS
Check-in: Monday at 8:30AM
Closing Ceremony: Friday at 11:30AM. Check-out to follow immediately after.
Meals: All meals are provided.
Ages: Overnight campers must be ages 10-16.
2023 CAMP INFORMATION
Dates: July 24-27, 2023
Age Group: 9-16
Camp Type: Day Camp
Schedule: Monday-Thursday, 8:30am-2:30pm
Check-In: Begins 30 minutes prior to the camp start time.
Meals: Lunch is not provided. Please bring a snack/lunch to camp each day.
The Nike Baseball Camp at Milton Academy, just outside of Boston, offers youth athletes the chance to train with elite coaches. Each day at Nash Field will be filled with baseball drills that cover hitting, fielding, base running, and team play to help each camper take their game to the next level!
ASA Sports along with Wolfpack Baseball will be running camp this summer. Co-directing Nike Baseball Camp at Milton Academy are David and Aaron Fleishman.
HIGHLIGHTS INCLUDE
Nike Camp T-Shirt, Gym Sack, Player Card and Lanyard
Low Camper/Staff Ratio
Daily Emphasis on Fundamental Development and Team Play
Discussion Topics: Preparing for Baseball Season and Personal Goal Setting
Grouping by Age/Ability
2022 Summer Camps are now open for Nike Soccer Camp at Milton Academy! The Curry and local premier club coaches have planned a great curriculum offering outstanding training, match game instruction and fun activities. Train hard, play hard and set new goals, all while having fun!
Nike Soccer Camps are for domestic and international players looking to work on their soccer skills in a fun and encouraging environment. This camp helps players of all abilities develop athletically, refine fundamental soccer skills, and enhance their skill set at the field player and goalkeeper positions.
HIGHLIGHTS INCLUDE
Offering multiple weeks of elite technical training
Skill development and positon specific training
10:1 Camper to Staff Ratio
Players grouped by age and ability
Nike Soccer Camp T-shirt
CAMP INFO
Dates:
June 20-23, 2023 (Tues-Fri)
June 26-29, 2023 (Mon-Thurs)
July 10-13, 2023 (Mon-Thurs)
July 17-20, 2023 (Mon-Thurs)
July 24-27, 2023 (Mon-Thurs)
July 31-August 3, 2023 (Mon-Thurs)
Ages: All Skills 8-13 & H.S Player 14-18
Gender: Coed
Options: Full Day
Hours: 9:00am – 4:00pm*
Meals: Lunch is NOT provided. Please bring a packed lunch
Location: Milton Academy: 170 Centre St, Milton, MA 02186
More awards, programs and locations than any other STEM summer camp in Massachusetts.
Get your kids in on the fun this summer and learn coding, robotics, film & animation, Minecraft, engineering & more!
Some of the classes
CODING WITH PYTHON 101  Grades 5-8
One of our most popular programs, Python 101 is perfect for kids interested in exploring all of Python's capabilities. Campers will navigate the text-based programming in IDLE, Python's integrated development environment, and learn to use the key building blocks of code, such as variables, conditionals, and loops. They will explore how to combine these elements to create interesting and complex programs to take home. More advanced students can tackle more complicated challenges including file I/O, arrays, and functions.
MINECRAFT EXPEDITION  Grades 5-8
Minecraft isn't just for gamers – it's for explorers, designers, and builders, too! Campers will explore the basics of art, architecture, animation, and the patented Redstone circuitry on Minecraft's Education Edition platform. They can build their own Minecraft world, collaborate on a friend's world, build logic gates and redstone contraptions, design animated pixel art using advanced commands, and take home digital files so that they can keep exploring their world after camp has ended. They'll also gain an understanding of how one of the most popular platforms in the world works.
TECH & DESIGN EXPEDITION Grades 5-8
For middle-schoolers looking to explore a broad range of options, or those who want to dive a bit deeper into two or three topics, this is a perfect place to start. We will experiment with Video Game Design, Digital Animation, Stop-Motion Animation, 3D Art & Printing, Architecture, and Programming Fundamentals in Scratch and Python. Campers will create several small to medium-sized projects, such as creating and printing a 3D model, producing a stop-motion animated film, or designing a playable video game. Campers build the foundations for success with technology: the inspiration, confidence, and enthusiasm to continue learning and creating!
MILTON PARKS & RECREATION JUNIOR GOLF CLINIC at Ponkapoag Golf
waiting for 2023 dates
If you are looking for summer camp in other towns besides Milton MA   Massachusetts , check out the South Shore Boston Summer Camp guide.