Easton MA summer camps and programs 2023
The following places in Easton  MA have summer camp and programs
Updated for 2023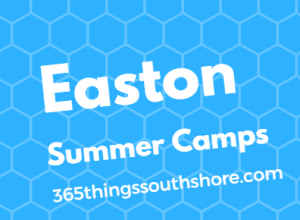 Maplewood Country Day Camp was founded in 1965 by Harold and Sandy Pinstein. Today their children Lee and Sue carry on the Maplewood tradition by offering campers, ages 4 to 14, an opportunity to express their creativity; to strive for achievement; to experience fun and adventure; to discover and develop skills in physical fitness; and to form long-lasting friendships and unforgettable memories. Maplewood creates a warm and secure environment for each camper. Children thrive in our well-balanced program, which includes the following essentials. Active non-competitive, wide variety of activities, and individual attention.
Summer Camp 2023
Dates & Rates
Monday, June 26th – Friday, August 18th
Kindergarten – 9th Grade
5-Day: Monday -Friday
Time: 9:00 am -4:00 pm
For children entering kindergarten in September 2023 – or for those who miss the
Kindergarten cut-off
Immerse your child in hands-on learning experiences that will enhance their love and
abilities in language, science, math, and music. Summer Camp sessions are Monday through
Friday 8:30-12:30 for one-week sessions throughout the summer. Our fun filled
educational summer program will begin June 12
th through Aug. 11th.
For some of our parents, summer program gives their child an "introduction" to their new
school before they begin the school year in the fall. The children will learn and explore many
exciting themes, while reviewing the academics they will need to remember during the
coming school year.
Session 1 June 12- 16 Buggin Out
Session 2 June 19-23 Disney Discovery
Session 3 June 26-30 Art Studio
Session 4 July 10-14 Animal Planet
Session 5 July 17-21 Disney Discovery (different activities)
Session 6 July 24-28 Lost in Space and Wild West
Session 7 July 31- Aug 4 Ocean Adventures
Session 8 Aug. 7-11 Super Hero's
This summer we will have a blast in the sprinklers with lots of water play and fun things to
do both inside and out. We will also have fun with all the fun preschool equipment; Jump
Balls, Potato sacks races, obstacle courses and more.
At Stonehill Sports Camps, we offer athletic instruction right on the campus of Stonehill College for children, depending on each camp, in grades 1-12. We give your student-athlete access to premier, state-of-the-art facilities and instruction from NCAA-level coaches and players.
At any of our camps, your student-athlete will get direct one-on-one instruction from coaches who win tournaments and championships. Our sports camps are a fun-filled environment, designed for athletes at all levels. All of our camps focus on individual skills and team play to prepare them for future competition.
Girls  & Boys  Basketball
Girls Field Hockey
Girls Lacrosse
Girls Softball
Boys & Girls Track & Field
Girls Volleyball
Our Summer Camp offers plenty of outdoor and water play with a new theme every week! Registration is open now through May 1, 2022.
ELAP offers a safe, nurturing environment where children are  surrounded by highly qualified staff  and familiar faces. Our summer camp  offers tons of outdoor water play and time for both group and individual activities. Our campers are given the  opportunity to make new friends while participating in a wide variety of activities centered around weekly themes.
waiting for 2023 dates
Sign ups for ECT Summer Program  will begin as soon as we get the okay.
waiting for 2023 info
STEM Focused Summer Programs for Grades K-9
For over 43 years, College Gate® and College Academy® is a family-run organization that has been offering STEM programming for parents and students looking for a dynamic and in-depth enrichment experience. Our skilled and knowledgeable instructors have developed a diverse, project-based curriculum that offers students a summer full of unique and thrilling challenges.
Session 1 –July 10 to 28
Session 2 – July 31 to August 18
Location: Stonehill College, Easton, MA
SHEEP PASTURE NATURE CAMP
NRT's Sheep Pasture Nature Camp is for children entering grades 1-6 in the fall of the next academic year. Campers enjoy all of the traditional summer camp activities, including games, songs, hikes, and more. Located at NRT's Sheep Pasture throughout the summer- what a great place to be!
2023 SESSION DATES & PRICES
Pricing and dates for the 2023 camp season will be posted in February, 2023. Check back for more information for Sheep Pasture Nature Camp!
All SPNC and LY registrations will be completed online in 2023!
Easton: Week 1 – 7/24 – 7/27 (7/28 Rain Date)
Militia Park Complex, Easton
RBI Baseball Academy is excited to be back for its 18th consecutive year for our instructional baseball camps! Camp weeks run Monday through Thursday beginning at 9am and ending at 1:00pm. Campers Age 5-6 will be enrolled in Full Day Camp in 2021 but will be run separate from the 7-12 Camp and campers may be dismissed at 11:30am before they take their lunch break. RBI Baseball Camps are open to any player in the appropriate age range that is looking to improve his or her baseball skills. There are no minimum skill-level requirements to participate in an RBI program, just the right attitude and a desire to work hard!!!
Camp will include the following:
Four days of top level instruction covering all baseball fundamentals.
Daily baseball games and instructional drills.
Experienced, professional staff with low participant to instructor ratio.
Spacious outdoor complex with multiple fields.
Decades of experienced directors and assistant directors.
First Aid/CPR Certified Staff members
Fun drills/skills designed to energize any youth baseball player!
Camp Staff
RBI Baseball Academy's Summer Day Camp staff is hand picked to ensure the highest quality of instruction. Our professional, caring staff is made up of current and former professional and college baseball players as well as current and former college and high school coaches. Each staff member is committed to providing each participant with a safe, enjoyable experience while learning the best baseball techniques. All Camp staff members have full CORI/SORI background checks by the state of Massachusetts.
Summer Art Camp for Kids 2023 9am-12pm Ages 7 and up
IT'S BACK!!! We are SO excited to offer our Summer Art Camp for Kids 2023. We will only be offering ONLY the morning session for this year and 4 weeks (Two in July and Two in August due to scheduling). Sign up for every week or just one. Our camp is for ages 7 and up. Most of you know Vicki but this year she took a different position, we are SUPER excited to bring on double the help this year for each session with TWO local school teachers for an even more hands on experience and who will bring fresh ideas and fun to camp.
Our summer camp is more than just wood. Each themed week will be sure to inspire your child as we will make a new projects daily. We will work with all sorts of mediums and break the days up with games, activities and multiple crafts. Each week we will also bring in a special guest on Fridays. These guests own local businesses geared towards kids fun! The last few summers have been such a blast we can hardly wait to hang out with everyone again!
Cost is $275 per week early registration before April 1st. $300 after April 1st.
July Weeks:
Week One July 10th-14th MVP Zone
Week Two July 17th-July 21st Adventure Awaits
August Weeks:
Week Three August 7th-11th Splish Splash
Week Four August 14th-August 18th Color Explosion
Camp runs from 9am-12pm. Drop off between 8:50am-9:00am and no earlier as we are setting up. Please pack your child with a backpack to include a water bottle and snacks (NUT FREE). We have water coolers for them to refill water as needed. We will have a Pizza Party on Friday along with a special guest and games.
We ask that kids dress to get messy and wear clothes to get dirty.
Each Camper will get a H&S Swag item to personalize.
How to register:
1. Simply click on the week you want, answer our required questions and add to cart. If you would like to add multiple weeks just add one to cart then hit back and add another.
2. Checkout…yes it's THAT simple
No refunds, if your child is sick or can't attend there are NO REFUNDS due to the planning and supplies of our camp.
Any questions please email us hammerandstainsouthshore@gmail.com
We can't wait to create new memories with your children!
check out all the Arts & Craft Camps on the South Shore this year!!
GirlsGetMath@Stonehill is a selective five-day non-residential mathematics program from July 11-15 at Stonehill College. It is open to high schoolers, regardless of gender, who live in or near Easton, Massachusetts, who will be entering the 10th or 11th grade this fall. Classes are structured to help ensure students are able to maximize the educational benefit while staying safe.
9:00am-2:00pm 08/07/2023 08/11/2023
FRACTURED FAIRYTALES
During this camp, students will explore the well-known and familiar stories we have all grown to
love. But just when you thought you knew them, our campers will throw you for a loop, as they
add their own creative spin to their favorite tale. Campers will find a new character in
themselves, as they participate in short plays, comic impovs, silent scenes, and humorous
mini-scripts. All are sure to live "happily ever after" as they take the rewritten stories from the
page to the stage. A magical time will be had by all!
If you are looking for summer camp in other towns besides Easton  Massachusetts , check out the  South Shore Boston Summer Camp guide.